If you don't already know it's Entropy on Saturday 4th of November.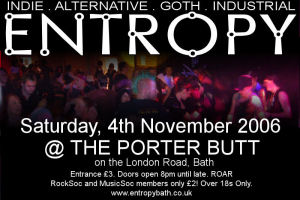 We're at the PORTER BUTT on the London Road in BATH. Doors open at 8pm until 1am.
juamei,
icklemichael, and I will be playing our usual mix of alternative tunes. All of our past set lists can be found online if you want to know what you'd be letting yourself into. There's a car park at the rear of the venue for anyone that's driving. Entry costs only £3 with card carrying RockSoc and MusicSoc members getting in for only £2.

If you'd like to keep up to date with all matters Entropy we have a mailing list. We try to include any and all alternative nights that we can find out about in Bath, Bristol and even as far as Cheltenham... If we're not including something you think we should please let me know.

We hope some of you can make it along.